Sleeping Beauty, Swan Lake, Snow White, Little Mermaid, Firebird, A Midsummer Night's Dream, Coppelia, An American Girl's Life, Beauty & the Beast, Pocahontas, West Side Story, Alice in Wonderland, Peter Pan, Cinderella, & many more…
Pre-Ballet Theatre Classes focus on a creative movement warm-up, based upon the RAD Pre-Primary syllabus, and also include a different story, every week or every other week.
Ballet Theatre I, II, III, IV Classes focus on Primary thru High Elementary ballet technique, based upon the RAD syllabus. These upper level classes study only two specific stories/ballets, over the course of an entire school year. Children in Ballet I, II, & II classes also learn & memorize choreography from whatever story they are focusing on, for their end-of-semester, in-studio presentations. And, our oldest Ballet IV students begin pointe work and also peform with the students of the Academy of Performing Arts in Orleans, in their two annual Dance Concerts.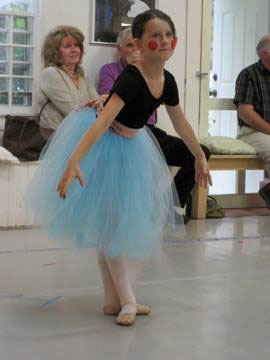 Visitor's Days - All CCBT Classes offer in-studio "Visitor's Day" presentations. These Visitor's Day presentations take place during the last day of each semester, during your child's regularly scheduled class time.
Summer Workshops are each one-week long. "Half day" workshops run for ages 3-5yrs. & 6-8yrs., and include a daily tea party! "Full day" workshops run for ages 7-10 yrs. and include a lunch break. So, please make sure to pack a bag lunch for all full day workshop students; because we'll picnic outside or at the beach, whenever the weather is nice.
CCBT Classes & Workshops bring dance & theatre together... teaching children technique, focus, teamwork, and collaboration, all while encouraging them to express themselves in a creative & nurturing environment.