The Littlest Ballerinas Delight in Harwichport
Story and Photographs by Peter Robbins for Cape Cod Today - Cape Cod Kidz
With the fall semester wrapping up, it was time for Visitor's Day at the Cape Cod Ballet Theatre for Children in Harwichport Thursday night. With her professional career beginning at age 13 and a resume that one has to read to give it its due, Jackie Underwood or Miss Jackie as the children call her, directed a heartwarming performance using the "Nutcracker" as the theme.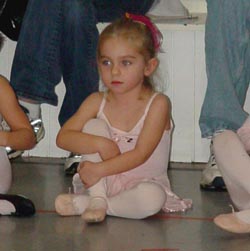 How do you keep the attention and focus of eleven children between the ages of three and five? It was not even an issue. Miss Jackie's poise and professionalism filled the room and neither the children, or the parents attending lost focus for one second. As Miss Jackie read and showed pictures to these aspiring ballerinas, there were smiles on their faces and their eyes were glued to her, waiting on each and every word as she spoke.
The excitement grew after each chapter when, with the aid of props, the ballerinas took their positions and acted out each ballet movement. Their dancing earned laughter and giggles and put smiles on the faces of parents and grandparents in the audience. Grandmothers putting their hands to their faces, mothers cried tears of happiness and proud fathers photographed each and every move, with applause following each act! At the end of the performance, each ballerina was called upon individually to receive her "Certificate of Completion".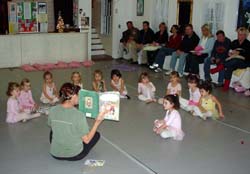 Cape Cod Ballet Theatre for Children is a gift to the community and to those lucky enough to be part of the tutorage of its founder, Jackie Underwood. Check out the school and Miss Jackie on the website or call 508-776-3406. Classes are held in the Historic Harwichport Library on Bank Street in Harwichport.